Menu

Dining on the Deck, Inside, -or- To Go!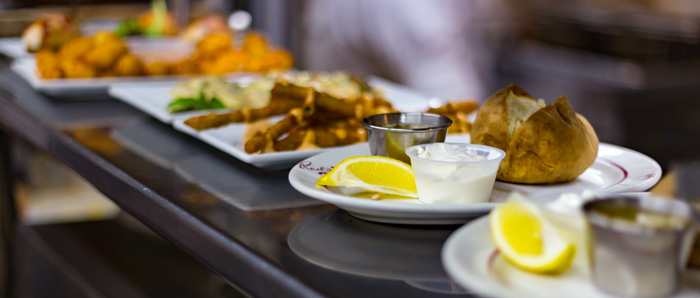 Daily Specials...
Appetizer Special
SPICY SHRIMP LURES
cajun seasoned shrimp with sliced avocado and pickled jalapeno wrapped in pepper bacon, then broiled and served with beer cheese for dipping. 14.99
Entree Specials
coquille st. jacques
sauteed sea scallops with mushrooms, scallions, white wine and a touch of cream. Served in a puff pastry shell. 27.99
jamaican jerk half chicken
marinated in our signature blend of ingredients then oven roasted and topped with chimmichurri sauce. Served with mashed sweet potatoes. 25.99
Dessert Specials
pumpkin puff
Mercer's NY made pumpkin ice cream in a flaky pastry topped with warm caramel and candied walnuts. 8.00
smores mini hibachi sharing platter
Hershey's chocolate, marshmallows, and honey graham crackers around a flaming mini hibachi with wood sticks for fresh melted smore grilling. 15.99
Menu Events by Day...
Making each day of the week a little more special with unique chef prepared menu offerings, all at a great price.
Tuesday
Test Kitchen Tuesday
Every Tuesday Chef Joe Konopka releases an unique entree special for just that day at a value price (usually $14.99). Details are only released on our Facebook page so be sure to follow us there for the inside track on this limited availability menu item each week.
Fish fry Boat is still open Tue-Sat 11am-7pm
A local favorite for quality seafood rolls on the go! See our boat menu tab for details. (still cash only at the window, but now accepting credit card payments through our online ordering.)
Wednesday
burger bash
Wednesdays now feature an expanded burger menu to get you over that mid-week hump. Click here to preview our Hump Day Burger Bash Menu.
Thursday Promo
Oysters & Prosecco Specials
$1 James River Raw Oysters served with our mignonette, cocktail sauce, horseradish and lemon.
$1 Raw Littleneck Clams served with cocktail sauce and lemon.
$20 Prosecco by the bottle.
Friday & Saturday Promo
featuring wood fired artisan pizzas
Chef Joe cooks up wood fired pizzas and other wood fired menu items on the deck. Reservations required.
Sunday Brunch is Back!
New four course plated format - every sunday 10:30am - 2:00pm
Sunday brunch is back and we are bringing it to you, one delicious course at a time. Our all new four course brunch will feature a choice of freshly prepared culinary delights that will change weekly. Click here for the latest Sunday Brunch info.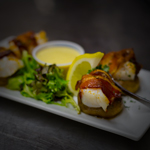 Starters & Lighter Fare
Sharing can be fun
Small Plates & Share-ables
Classic Red's Shrimp Cocktail
succulent gulf shrimp with our tangy cocktail sauce. A 74-year Red's tradition! (11) 14.99 / (7) 11.99 / (5) 8.99
Fried Real Wisconsin Cheese Curds
served with our spicy dynamite chili garlic sauce for dipping 12.99
Raw or Baked East Coast Oysters
ask your server for today's raw oyster varieties. Served raw on the half shell with peppadew mignonette, plain with cocktail sauce, or baked with herb butter and bacon. (12) 23.99 / (6) 13.99
Steamed Littleneck Clams Provencale
with toasted crostini - 12.99
Crispy Dumplings
pan fried homemade short rib and goat cheese dumplings topped with bacon jalapeño aioli on a soy drizzled plate - 12.99
Fried Calamari Satay
flour dredged and lightly fried then tossed in our peanut sauce - 11.99
Fried Green Tomato Stack
with roasted yellow pepper, goat cheese, and drizzled with pesto aioli - 9.99
Scallops wrapped in bacon
four genuine channel sea scallops wrapped in bacon then baked and served on mushroom caps with honey dijon for dipping - 11.99
specialty fry basket
an assortment of Sweet Potato, Asparagus, Green Bean, and Portobello Mushroom Fries served with our homemade remoulade sauce for dipping - 10.99
Manhattan or New England Clam Chowder
our popular chowders - bowl 6.50 / cup 4.50
Soup Du Jour
ask your server for today's selection - bowl 6.50 / cup 4.50
Lobster Stew
a true specialty of the house! Each stew is made to order with chunks of lobster meat, potato, celery and onion then served in a bread bowl - 19.99
Salads
signature crab louie salad
a large wedge of butterhead lettuce topped with jumbo lump crab meat, hard boiled egg, grilled asparagus and fresh tomato. Served with a side of our homemade Russian dressing - 18.99
Seared Ahi Ramen Salad
garlic and peppercorn rubbed ahi tuna, seared and tossed with chopped tomato, red onion, broccoli and ramen noodles. Served with Hoisin Citrus dressing - 15.99
Steak Gorgonzola Salad
grilled flat iron steak sliced over crisp romaine with diced red onion, gorgonzola cheese, grape tomatoes, walnuts and balsamic vinaigrette - 15.99
Traditional Caesar Salad
romaine lettuce tossed with croutons, asiago cheese and our version of Caesar dressing - 9.99
Topped with Broiled Salmon, Cajun Chicken, Cajun Shrimp, or Ahi Tuna 14.99 / Topped with sliced Flat Iron Steak 15.99
Sides
Battered Asparagus Fries
drizzled with house made remoulade. 5.00
Sauteed Baby Spinach
4.00
Four Cheese Farro
4.00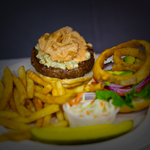 Specialty Sandwiches
Available Tuesday - Saturday until 3pm
smoked salmon cuban
locally smoked pepper-spiced salmon (Samaki, Port JErvis, NY) with dijon mustard cream cheese, sliced garlic pickles, thinly sliced camelized red onion, swiss cheese. Pressed on a telera roll 14.99
Brisket and bacon melt
thick slices of hickory smoked beer marinated beef brisket, layered with pork pepper bacon, coleslaw and melted smoked gouda. Served open faced on thick cut marble rye. 14.99
Fried Oyster Po'Boy
our large fried oysters on buttered and grilled french bread with homemade remoulade sauce. 14.99
Maine Lobster Roll
Our most popular sandwich! Chilled Maine lobster meat tossed with diced fresh cucumber, chopped scallion, and tarragon mayonnaise. Served on a brioche roll. 19.99
sous vide chicken salad club
sous vide chicken breast diced with fresh grapes, celery and mayo piled on a kaiser roll with bacon, lettuce and tomato. 14.99
Gluten free tacos
homemade zucchini shells with your choice of crispy Fried Grouper, Blackened Chicken, or Grilled Portobello Mushroom (when available). Tacos stuffed with steamed rice, Kalamata olives, Queso Chihuahua, sour cream and pico de gallo. 15.99
Gochujang Chicken Philly
thinly sliced chicken breast grilled with peppers, onions and mushrooms smothered with Korean sweet chili sauce then pressed with American cheese on a telera roll. 14.99
Gourmet Burger
half pound Iowa premium certified angus beef, custom blend of ground chuck, short rib and brisket char grilled, served on a toasted kaiser roll topped with 3 crispy chili garlic dynamite shrimp, smoked blue cheese, avocado and a single fried onion ring. 15.99
hawaian pork burger
grilled all natural pork burger smothered in teriyaki sauce, topped with roasted yello peppers, grilled pineapple, and melted provolone cheese. 14.99
beyond meat burger
amazing plant based burger with the taste and texture of real beef. Grilled and topped with smoked blue cheese and oven roasted tomatoes. served on a kaiser roll with roasted garlic aioli. 15.99
Traditional Angus Burger
with lettuce, tomato and onion. 12.99 / with cheese 13.49
Specialty Fry Basket Sampler
an assortment of sweet potato, asparagus, green bean, and portobello mushroom fries served with our homemade remoulade sauce for dipping. 10.99
Rice or Ramen Bowls

Available Anytime (except holidays)
Asian Fusion sea bowl
your choice of grilled Colossal Shrimp OR garlic and peppercorn rubbed Ahi Tuna with sliced avocado, steamed broccoli, roasted yellow pepper, fresh chive and Kogi street sauce. 18.99
Detox Fruit & Veggie Bowl
steamed corn and black beans with diced avocado, mango, sweet pineapple, and red pepper. Served with citrus and local honey dressing topped with fresh cilantro. 11.99 Topped with Ahi Tuna, Cajun Shrimp, Broiled Salmon, or Cajun Chicken 16.99 / Topped with sliced Flat Iron Steak 17.99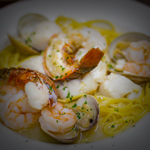 Dinner Anytime
Discover our menu
Traditional Red's Seafood Rolls
Fishburger
our "Fish & Chips" sandwich! Broiled or deep fried haddock fillet served on a brioche roll with french fries and our homemade coleslaw. 12.99
Shrimp Roll
succulent shrimp broiled or deep fried. 12.99
Scallop Roll
genuine channel sea scallops broiled or deep fried. 13.99
Oyster Roll
Maryland oysters lightly breaded and deep fried. 13.99
Clam Roll
Ipswich clam strips lightly breaded and deep fried. 12.99
All of our fried seafood is breaded on premise and fried in heart smart trans fat free oil.
Food with Flair
Baked Shrimp Mac & Cheese
local Sfoglini (W. Coxsackie, NY) trumpet pasta and tiger shrimp baked with our rich three cheese sauce. Topped with garlic crumbs and fried shallots. 19.99 / Without Shrimp 15.99
Stuffed Flat Iron Steak
grilled flat iron steak stuffed with mushrooms and blue cheese, topped with port wine demiglaze. Served with our homemade mashed potatoes. 20.99
Sockeye Salmon
black pepper and smoked sugar marinated wild salmon, served over wilted baby spinach greens. 23.99
Local Stuffed Steelhead Trout
Hudson Valley Fisheries (Hudson, NY) NY Steelhead trout fillet stuffed with our own shellfish stuffing and topped with sauce choron. Served with duchess potatoes. 23.99
Chicken Cordon Bleu
topped with fresh mushroom sauce with a touch of wine. Served with duchess potatoes. 20.99
Gourmet Surf & Turf Burger
half pound Iowa premium certified angus beef, (custom blend of ground chuck, short rib and brisket) char grilled, served on a toasted kaiser roll topped with 3 crispy chili garlic dynamite shrimp, smoked blue cheese, avocado and a single fried onion ring. 15.99
Stuffed Chicken Virgie
with carmelized onion, asparagus and asiago cheese. Baked and sliced over four cheese farro and topped with garlic herb butter. 19.99
Chicken Pancetta with Angel Hair
Italian breaded and fried chicken breast tossed in marsala cream with toasted pancetta, broccoli, fresh fennel and angel hair pasta. 19.99
Vegetable Asian Noodle Bowl
warm rice noodles tossed with red pepper, scallion, broccoli & snow peas in authentic Kogi sweet and spicy garlic soy sauce. 15.99 / Add Flat Iron Steak 6.00 / Add Shrimp 5.00 / Add Chicken 5.00
Wood Fired Vegetable Pizza
fresh spinach, garlic, Kalamata olives, roasted yellow peppers and oven roasted tomatoes baked with fresh mozzarella on a wood fired pizza crust. 14.99
Historic Favorites
Red's Shellfish Linguine
shrimp, scallops, clams & Canadian Lobster tail with olive oil, garlic, and a touch of white wine over linguine - our most popular dish! 27.99
Baked Stuffed Colossal Shrimp
these tiger shrimp are the largest available at 4 ounces each! Each shrimp is individually peeled and baked stuffed with our homemade seafood stuffing. Served with drawn butter. 30.99
Grouper Florentine
over fresh baby spinach and topped with hollandaise sauce. 20.99
Fillet of Norwegian Salmon
broiled, blackened or poached with hollandaise sauce. 23.99
Haddock
broiled topped with bread crumbs or deep fried. 20.99
Shrimp Sampler Platter
this shrimp lover's delight includes an assortment of shrimp scampi, fried shrimp, and a 4oz. stuffed colossal shrimp. 26.99
Combination Fry
shrimp, scallops, clams, and oysters. (If you'd prefer to feast on just one of these, just ask! Shrimp and scallops also available simply broiled.) 23.99
NY Sirloin STrip Steak
12 oz. of tender goodness. 31.99
Roast Prime Rib of Beef au jus
slow roasted and cut to order. Creamy horseradish sauce available upon request. (when available on Saturday & Sunday only, while it lasts!). (14oz.) 30.99 / (10oz.) 27.99
Filet Mignon
broiled selected choice 8oz. tenderloin of beef on toast with fresh mushroom cap and bérnaise sauce. 35.99
Chicken Ala Red'S
a tender breast of chicken dipped in an egg and parmesan cheese batter then sautéed and finished with a delicate lemon sherry wine sauce. 22.99
Lobster & King Crab
Whole Lobsters
Size and availability varies. Ask your server for details and pricing.
Any size lobster with shellfish stuffing. Add 5.00
Lobster Tail
These 7oz Canadian cold water tails are some of the best we've found. Red's is one of the only restaurants in the Hudson Valley offering these sweet and flavorful cold water tails. Single tail 29.99 / Twin tails 49.99
Add a Lobster Tail (7oz.) to any entrée. Add 24.99 to price
Alaskan King Crab Legs
sweet and succulent Alaskan King Crab legs served with drawn butter. (20oz.) 39.99 / (12oz.) 29.99
Add Alaskan King Crab Legs (12oz.) to any entrée. Add 24.99 to price
Gluten Free Fried Shrimp, Scallops, Haddock or Chicken Breast are now available upon request!
Dredged in cornstarch, egg and potato "breading" then fried in a dedicated gluten-free canola oil.
Have it all!
Shore Platter
this entrée is for those of you who just can't decide. Have it all... A 5-piece shrimp cocktail to start and a heaping platter of deep fried Tiger Shrimp, Sea Scallops, Ipswich Clams, Maryland Oysters, and Haddock. 30.99
All Dinner Entrées are served with appropriate accompaniments and include a side salad of mixed greens and vegetables.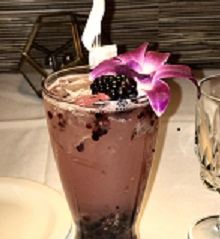 Drinks
Featuring local Spirits, Craft Beer, Hard Ciders, Seltzers and Hard Coffee. Also featuring a selection of wines each day at $20 per bottle.
Local Libations
Featuring Hudson Valley Distillers, Germantown, NY
Bobbing 4 apples
HVD Apple Jack, Kissed Caramel Vodka, Butter Shots, local Apple Cider, salted caramel rimmed glass, crab apple garnish 10.00
New World Gin Margarita
HVD Clear Mountain Gin, fresh lime juice, Cointreau, agave 10.00
Stone Wall Mule
HVD Adirondack Apple Jack, HVD Spirits Grove distilled Apple Vodka, roses lime juice, ginger ale 10.00
Signature Cocktails
Apple pear sangria
Apple Pear Sangria ~ Three Olives Apple Pear Vodka, white wine, local apple cider, fresh muddled apple and pear 10.00
pumpkin spice mimosa
our seasonal featured twist on a classic cocktail. House-made pumpkin spice puree, champagne, whipped cream. 7.50
Red sangria
44 North Mountain Huckleberry Vodka, Pama, red wine, fresh muddled fruit 10.
00
Bulleit Bloody Mary
Bulleit Bourbon, Tabasco spicy bloody mary mix, cocktail shrimp & bacon 10.00
Pomegranate Martini
44 North Mountain Huckleberry Vodka, Pama, Cointreau 10.00
Mocktails
pumpkin spice mocktail
house made pumpkin spice puree and ginger ale. 4.50
lavender lemonade
a refreshing blend of our homemade lavender syrup and lemonade made with fresh lavender and a lemon garnish. 4.50
Spirits
Full Bar
We stock a full assortment of liquors, cordials, and aperitifs. Drinks at Red's are prepared using only real ingredients and precisely measured shots to ensure consistency.
Local, Regional & Micro Brews
Chatham Brewing Company, Chatham, NY
Work in Progress IPA - unfiltered, features nelson sauvin, motucka, and citrus hops 6.00
The Comeback - German style Kolsch (12oz.) 6.00
Nor Eastah American IPA - unfiltered with mosaic and citrus hops (16oz.) 8.00
Czech'rd Past Bohemian Style Pilsner - classic clean and light (12oz.) 6.00
Farmer's Daughter Rye IPA - spicy and fresh with locally grown rye (16oz.) 8.00
Thin Man Brewery, Buffalo, NY
Trial by wombat, India pale ale hopped with Galaxy. Hazy, with tons of peach, pineapple and orange (16oz) 8.00
rare form brewing, Troy, NY
Troy Division IPA (16oz) 8.00
lough gill, ireland
Dark Majik - imperial oatmeal coffee cream stout. 9.00
jack's abby, framingham, MA
Copper Legend Oktoberfest - malty, smooth, exceedingly drinkable lager. 8.00
Brown's Brewing Company, Troy, NY
Oatmeal Stout 6.00
Brewery Ommegang, Cooperstown, NY
Three Philisophers Dark/Cherry Ale 8.50
Ommegang Abbey Ale 7.50
Pale Sour Ale 8.00
Samuel Adams, boston, ma
Summer Ale - American wheat ale (12oz.) 5.50
Cherry Wheat - crisp, fruity, with hint of honey (12oz) . 5.50
Oktoberfest - rich malts, hearty, smooth, notes of caramel (12oz). 5.50
Craft Hard Seltzer, Hard Cider, & Hard Coffee
Chatham Brewing Hard Seltzer
Raspberry Pfizz 6.50
Truly Hard Seltzer
Lime (12oz.) 6.50
White Claw Hard Seltzer
Black Cherry (12oz.). Only 100 calories and gluten free! 6.50
Nine Pin Hard Cider, Downtown Albany, NY
Signature Cider - Crafted in our state's first farm cider (12oz.)
Current Varieties - Peach Tea / Rose / Traditional Cider 8.00
Pabst Hard Coffee
A new addition to our hard beverage collection. Cold and creamy (12oz.) 6.50
Hard Kombucha
aqua vitea after glow, middlebury, VT
Ginger Blue - sparkling berry and snappy ginger meet for the perfect refresher. (12oz) 8.00
Mocktails & Bottled Water
beautiful and alcohol free
PUMPKIN SPICE MOCKTAIL - house made pumpkin spice puree and ginger ale. 4.50
LAVENDER LEMONADE - a refreshing blend of our homemade lavender syrup and lemonade with lemon garnish. 4.50
SARATOGA WATER, SARATOGA, NY - (28oz) sparkling or still. 6.00
Beers of the World
Guinness Stout 5.75
Blue Moon 5.25
Corona 5.25
Michelob Ultra 5.00
Coors Light 4.50
Budweiser 4.50
Heineken 5.25
Mikkellar Weird Weather N/A IPA 7.50
O'Douls Amber N/A 4.50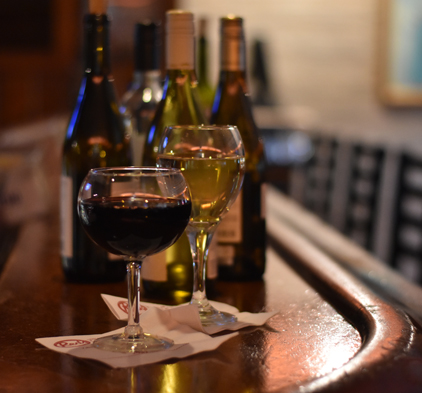 Wine List
Pairing wine with food makes the palate dance. When calling in your order, ask about today's selection of $20 bottled wines.
White Wines
Lightest to Fullest
Pinot Grigio, Fossi (Italy) - full bottle 29.99 / glass 8.00
Pinot Gris, La Crema (Monterey, California) - full bottle 39.99
Sauvignon Blanc, The Crossings (New Zealand) - full bottle 39.99 / half bottle 21.99
Sauvignon Blanc, Silver Gate (California) - full bottle 30.99 glass 8.00
Chardonnay (unoaked), Salmon Run (Finger Lakes, NY) - full bottle 29.99 / glass 8.00
Chardonnay (oaked), Maddalena (Monterey, California) 34.99
DRY ROSE / SWEETER
Dry Rosé (organic & sustainably farmed), Natura (Chile) - bottle 31.99 / glass 8.00
White Zinfandel, Woodbridge (California) - bottle 26.99 / glass 7.00
Riesling, Brotherhood (New York) -bottle 31.99 / glass 8.00
Moscato, Rosatello (Italy) - bottle 29.99
Red Wines
Lightest to Fullest
Pinot Noir, Bodan Roan (California) - bottle 30.99 / glass 8.00
Chianti, Santa Cristina DOCG (Tuscany, Italy) - full bottle 36.99
Merlot, Villa Pozzi (Italy) - bottle 31.99 / glass 8.00
Cabernet Sauvignon, Crosby (California) - full bottle 31.99 glass 8.00
Cabernet Sauvignon, Michael David Freakshow (California) full bottle 49.99
Malbec, Dona Paula Los Cardos (Argentina) - bottle 34.99 / glass 9.00
Champagne and Sparkling
Prosecco, Santa Marina (Italy) - bottle 32.99 (Featured for $15 a bottle on Thursdays!)
Prosecco Brut, Maschio (Italy) - bottle 36.99 / split 8.00
Lambrusco, Riunite split - 7.00
Create Your Own Wine Flight
A 3oz pour of any three wines currently offered by the glass, served together in a flight stand - 10.00
$20 Bottled Wine
Whenever possible we offer at least one red and one white wine by the bottle at a special price of $20/bottle. These are sometimes limited availability wines and in the spirit of keeping it a fresh and fun offering, we try to change the wines offered every month or so.
ASK YOUR SERVER FOR TODAY'S FEATURED $20 BOTTLED WINE
Can't Finish a Bottle?
TAKE IT TO GO! We will wrap the rest of your bottled wine to safely and legally transport home with you.